3.2 How Humans will be harmed by turning the Olympic Peninsula into a War Zone
There will be at least three ways that humans will be harmed by turning the Olympic Peninsula into a war zone. These are economic harm from loss of tourism, physical and emotional harm from extreme noise and third long term adverse effects from high powered electromagnetic radiation. In this article, we will briefly review these three adverse effects.
3.2 Adverse Economic Effects Loss of $600 million annually
As we discussed earlier, the National Park Service conducted a study which showed that more than 3 million people per year visit the Olympic Peninsula due to peace and quiet of the national park there. The claim has been that these three million people spend about $100 each and therefore contribute $300 million to the local economy on the Olympic Peninsula. However, it is impossible to spend the weekend on the Olympic Peninsula and only spent $100 per person. A more realistic estimate would be $200 to $300 per person for a total of $600 million to $900 million contributed to the local economy. Should the Forest Service allow the Navy to turn the Olympic Peninsula into a war zone, this entire $600 million would quickly disappear as no one would want to waste their precious vacation and risk the health of their children on extreme noise and electromagnetic radiation. Without tourism, the Olympic Peninsula would eventually turn into a ghost town. Perhaps this is what the Forest Service and Navy want.
Unemployment Rate on the Olympic Peninsula compared to State average
Below is a quote from the October 21 2014 Peninsula Daily News
http://www.peninsuladailynews.com/article/20141022/news/310229987/jobless-rate-lingers-at-7-percent-in-clallam-jefferson-counties
PORT ANGELES — Private-sector job losses exceeded public-sector gains last month as North Olympic Peninsula unemployment hovered around 7 percent in September. The county unemployment rate went from 6.9 percent in August to 7.0 percent in September, the state Employment Security Department reported. Jefferson County gained 30 public-sector positions but lost 100 in the private sector as unemployment went from 6.4 percent in August to 6.6 percent in September, state officials said. The size of the North Olympic Peninsula labor pool shrank slightly in September, from 26,730 to 26,600 in Clallam County and from 11,280 to 11,130 in Jefferson County. State officials said Grays Harbor County had the highest at 8.8 percent. The unemployment rate in the Seattle metro area remained at 4.8 percent in September. Statewide unemployment went from 5.6 percent to 5.7 percent last month.
The nominal unemployment rate on the Olympic Peninsula is 1.5 to 2 percent higher than in the rest of the State. However, the real unemployment rate is much worse. Statewide Washington has 4 million workers and only 3 million jobs for a real unemployment rate of 25%. In the four counties of the Olympic Peninsula, this situation is even worse. It is approaching 50% of the eligible workforce that does not have a full time job.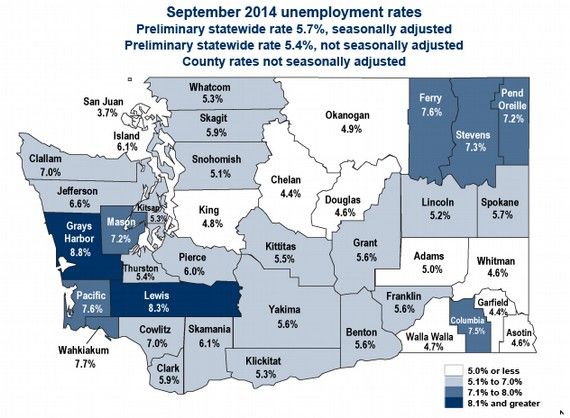 The following table is taken from the Washington State Employment Security Department Monthly Employment Report by County
https://fortress.wa.gov/esd/employmentdata/reports-publications/economic-reports/monthly-employment-report
| | | | | |
| --- | --- | --- | --- | --- |
| County (Largest City) | Population | Full time jobs | Jobs to Population Ratio | 2012 Per Capita Personal Income |
| Clallam (Port Angeles) | 72,312 | 26,475 | 37% | $38,545 |
| Jefferson (Port Townsend) | 30,000 | 8,000 | 27% | $45,000 |
| Grays Harbor (Hoquim) | 73,000 | 22,000 | 30% | $32,000 |
| Mason (Shelton) | 60,500 | 13,400 | 22% | $32,700 |
| Peninsula Total | 235,812 | 70,875 | 30% | $36,000 |
While there has been some economic recovery in the rest of Washington State since the 2008 Wall Street Bank Crash, there has been no recovery on the Olympic Peninsula. Communities and families struggle day to day under the burden of what can only be described as Great Depression economic conditions. In 2012, the Washington State per capita personal income was $46,045. Thus, the average person on the Olympic Peninsula is already getting by on $10,000 per year less than the Washington State average. Nation wide and in Washington State about six in ten have full time jobs. However, on the Olympic Peninsula, only three in ten currently have full time jobs.
The loss of $600 million in tourism economic activity at 20 jobs per million could be a loss of 12,000 jobs. This would push total full time jobs below 60,000 and result in a Jobs to Population ratio of only 25% – only one in four people would still have a job. Thus, if the Forest Service approves the Navy plan to turn the Olympic Peninsula into a war zone, the economic consequences on the families living on the peninsula would be devastating.
Yet despite this fact, mayors of major towns around the Peninsula have claimed they had no idea of the Navy's plans. This alone is reason enough for the Forest Service to extend the comment period and hold official recorded public hearings in each of the four major counties affected by the Navy's War Games proposal.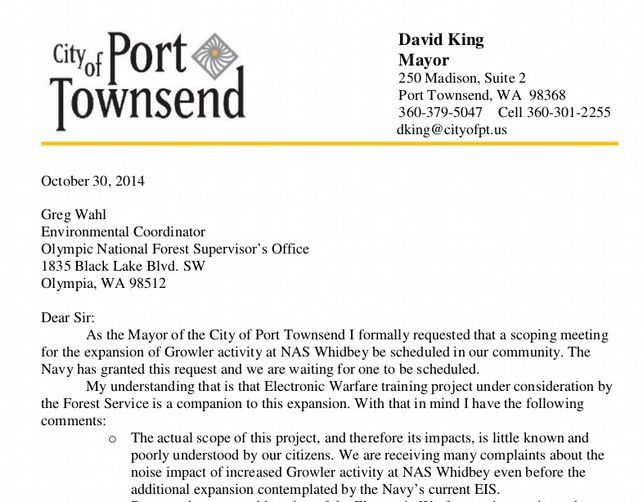 5.2 Adverse Noise Effects from more than 11,000 growler airplanes flying overhead each year.
While humans are more resistant to excessive noise than spotted owls, there will still be serious health effects of being forced to endure military jets flying overhead 11 hours per day, 6 days per week and 260 days per year at a decibel rating of more than 100 decibels. These effects include chronic stress, anxiety, depression and sleeping disorders. For some sensitive people, perhaps 20% of the population, it will be impossible to survive such toxic noise. These people will simply have to move to a quieter place. However because they will not be able to find anyone to buy their home, they will likely lose their life savings while fleeing from the Olympic Peninsula war zone. They will be war refugees in their own country – all because their corrupt elected leaders sold them out to the military industrial war profiteers. Perhaps they can move into one of the tent cities cropping up all around Seattle during the current Great Recession.
In our next article, we will look at how chronic and extreme electromagnetic radiation from more than 100 growler jets each day would harm people.