The US Navy would like us to believe that there is no real difference between the older Prowler Electronic Warfare jets and the new Growler Electronic Warfare jets. They have even given their new jets a similar sounding name to their old jets in order to confuse us. The Navy has claimed in many legal documents that there is "no significant difference between the new jets and the old jets. However, the new Growler jets are nothing at all like the old Prowler jets. Growler jets fly twice as fast as Prowler jets (1200 miles per hour versus 600 miles per hour). They have engines that are much bigger and more powerful with nearly twice the amount of thrust. This is one of the reasons that Growler jets are much louder than Prowler jets (the other reason being that Growlers are less aerodynamically shaped than Prowler jets which cause more turbulence).
Another major difference is that Growler jets are much more difficult to fly and not made as well as the older Prowler jets. These two factors have resulted in Growlers and other similar F18 jets (mainly the Hornet) suffering crashes at a rate that is 10 to 36 times greater than the older Prowler jet. This means that Growler jets are 10 times to 36 more likely to crash into a residential neighborhood than Prowler jets. It also means Growler jets are 10 to 36 times more likely to crash into a wilderness area and trigger a forest fire than the older Prowler jets.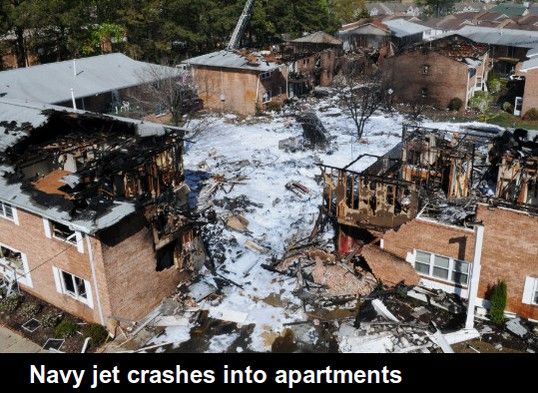 http://www.cnn.com/2012/04/06/us/virginia-plane-crash/index.html?hpt=hp_t1
Below are a table on graph of these incidents over the past 35 years confirming this fact. I have broken down the data into decades to make it more understandable. Also I have doubled the final bar in the graph as we only have data for the first five years of the current data and I am assuming that the second five years will be at least as bad as the last five years. This is a reasonable assumption since the Navy is planning on greatly increasing the number of Growlers in the next five years. This will also greatly increase the number of Growler jet crashes. Hopefully, these Growler crashes – which are almost certain to occur and to be greater than two per year – will not occur in residential neighborhoods or wilderness areas. Instead, if we are wise, they will occur over deserts and other unpopulated areas where no people or wildlife can be harmed.
Here is the Table and Graph based on the table.
Grumman EA6B Prowler versus McDonald Douglas F18 Hornet and Growler Accidents
(note: Growlers are an electromagnetic warfare version of the F 18 Hornet)

Last 35 years: 7 Prowler Jet Crashes and 45 F18 Hornet/Growlers Jet Crashes
Last 25 years: 3 Prowler Crashes and 42 F18 Hornet/Growler Crashes: Ratio 13 to 1.
Last 15 years: 1 Prowler Crash and 36 F18 Hornet/Growler Crashes: Ratio 36 to 1.
Here is the Graph based on the above table: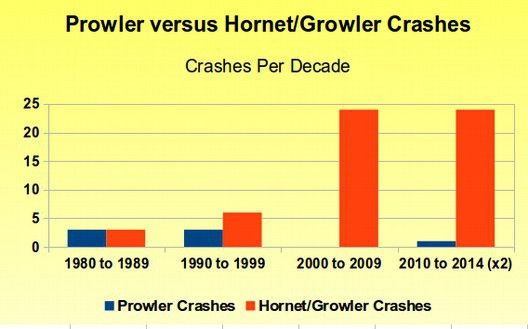 The rate of Prowler jet crashes is two per decade or one every five years. The rate of Hornet/Growler crashes is about 24 per decade or about 12 every five years. What is most relevant is that the rate of Prowler jet crashes went down over the past 20 years while the rate of Hornet/Growler jet crashes went up. Over the past 15 years, Hornet/Growler jets were 36 times more likely to crash than Prowler jets. The cause of most of the Hornet Growler jets appears to be that the jets are moving so fast (up to 1200 miles per hour) that they are extremely difficult to control. There also appears to be technical problems with the construction of these jets. Meanwhile, the Prowler jets are much slower (600 MPH) and appear to be much better made.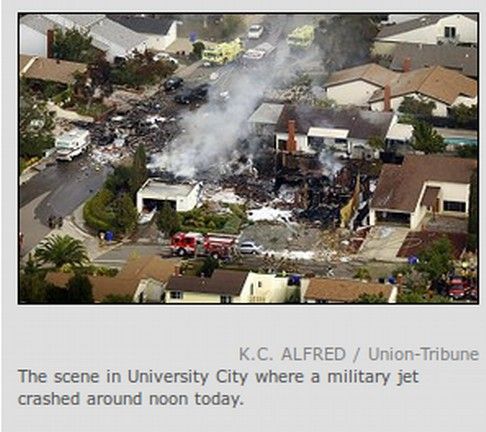 My research differs slightly from previous published research in that I counted a mid-air collision between 2 F18 Hornet/Growlers as two crashes rather than one. This is because both jets crashed into the ground or ocean and what we are most concerned about is the impact that a Growler jet crash would have on a residential community or wilderness area. Two F18 jets crashing into a community or wilderness area are twice as likely to harm residents or start a fire as one jet crashing into a community or wilderness area. Therefore, it is more appropriate to count mid-air collisions as two jets rather than one jet. There was also one more mid air collision of F18's in September 2014 after the prior study was completed. This adjustment involved 5 mid air collisions which added 6 F18 crashes to the F18 column – making the total 45 F18 crashes rather than 39 F18 crashes. Either way, the result is the same.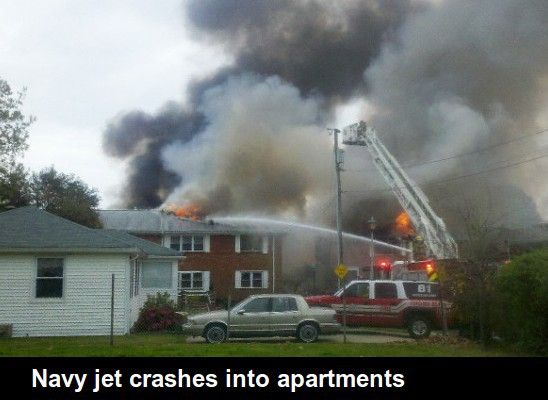 http://www.cnn.com/2012/04/06/us/virginia-plane-crash/index.html?hpt=hp_t1
This research confirms that the F18/Hornet/Growler jets are not as safe as the Prowler jets. This is not surprising since the F18 can go 1200 miles per hour while the Prowler can only go 600 miles per hour. It is like saying that driving a race car at 120 miles per hour is more dangerous than driving the family car at 60 miles per hour. Therefore, Growler jets should not be flown over residential neighborhoods or fire prone wilderness areas – any more than race cars should be driven in front of the local elementary school.
My thanks to Michael Monson, Bob Wilbur and Mark Harmon for supplying this data and doing the original research. Below is the summary of Prowler and Growler/Hornet crashes for anyone who would like to double check my work. Also check this link:
https://en.wikipedia.org/wiki/List_of_accidents_and_incidents_involving_military_aircraft_%282000%E2%80%9309%29#2012
Regards,
David Spring
FIGHTER AIRCRAFT ACCIDENTS/INCIDENTS 1980-Present
EA-18/F-18 45 and EA-6B 7 Total 52
1980 None
1981 26 May
Grumman EA-6B Prowler, BuNo 159910, of VMAQ-2 Detachment Y, crash landed on flight deck of USS Nimitz, off the Florida coast,[27] killing 14 crewmen and injuring 45 others (some reports say 42, some 48). The crash was the result of the aircraft missing the last arresting cable, while ignoring a wave-off command. Two Grumman F-14 Tomcats struck and destroyed (BuNos. 161138 and 160385), 3 F-14s, 9 LTV A-7 Corsair IIs, 3 S-3A Vikings, 1 Grumman A-6 Intruder and 1 SH-3 Sea King damaged.[28] Forensic testing conducted found that several members of the deceased flight deck crew tested positive for marijuana (the officers on board the aircraft were never tested, claimed one report). The responsibility for the accident was placed on the deck crew. The official naval inquiry stated that the accident was the result of drug abuse by the enlisted crewmen of the Nimitz, despite the fact that every death occurred during the impact of the crash, none of the enlisted deck crew were involved with the operation of the aircraft, and not one member of the deck crew was killed fighting the fire. As a result of this incident, President Ronald Reagan instituted a "Zero Tolerance" policy across all of the armed services—which started the mandatory drug testing of all US service personnel.[29] In another report, however, the Navy stated that pilot error, possibly caused by an excessive dosage of brompheniramine, a cold medicine, in the blood of pilot Marine 1st Lt. Steve E. White, of Houston, Texas, "may have degraded the mental and physical skills required for night landings." The report described brompheniramine as "a common antihistamine decongestant cold medicine ingredient."[30] "Last October [1981], Rep. Joseph P. Addabbo, (D-N.Y.) said that an autopsy conducted on the pilot's body disclosed up to 11 times the recommended dosage of a cold remedy in his system."[30] This report seems to bely the above account that no testing was done on the flight crew.
1981 28 September or 30 September (sources differ)
During a NAVAIR weapons release test over the Chesapeake Bay, a McDonnell-Douglas F/A-18A-3-MC Hornet, BuNo 160782, c/n 8, out of NAS Patuxent River, Maryland, drops a vertical ejector bomb rack with an inert Mk. 82 bomb from the port wing, which shears off the outer starboard wing of Douglas TA-4J Skyhawk camera chase plane, BuNo 156896, c/n 13989, which catches fire as it begins an uncontrolled spin. Two crew successfully eject before the Skyhawk impacts in the bay, the whole sequence caught on film from a second chase aircraft. Video of this accident is widely available on the web.[35][36]
1981 29 October
A United States Navy Grumman EA-6B Prowler, BuNo 159582, 'AC-604', of VAQ-138, from NAS Whidbey Island, Washington, crashes at 0850 hrs. in a rural field near Virginia Beach, Virginia, killing three crew. Wreckage sprayed onto nearby houses, a barn and a stable with 35 horses, but no fires were sparked and there were no ground injuries. The Prowler had departed NAS Norfolk with three other aircraft at 0832 hrs., bound for the USS John F. Kennedy, off the Virginia coast before crashing three miles from NAS Oceana. Navy officials said they did not know if the pilot was trying for Oceana.[37][38]
1982 None
1983 None
1984 None
1985 None
1986 None
1987 24 April
Marine Corps Colonel Jerry Cadick, then commanding officer of MAG-11, was performing stunts at the MCAS El Toro Air Show. California, before a crowd of 300,000 when he crashed his McDonnell-Douglas F/A-18 Hornet at the bottom of a loop that was too close to the ground.[20] The aircraft was in a nose-high attitude, but still carrying too much energy toward the ground when it impacted at more than 300 mph (480 km/h). Col. Cadick was subjected to extremely high G forces that resulted in his face making contact with the control stick and sustaining serious injury. He broke his arm, elbow and ribs, exploded a vertebra and collapsed a lung. Col. Cadick survived and retired from the Marine Corps. The F/A-18 remained largely intact but was beyond repair.[152][153]
1987 5 December
A U.S. Navy Grumman EA-6B Prowler, BuNo 163044, 'NG', of VAQ-139, goes missing over the Pacific Ocean during training exercise 900 miles off San Diego. Search fails to find any sign of the four crew.[163]
1989 19 July
A U.S. Navy McDonnell-Douglas F/A-18 Hornet from Cecil Field, NAS Jacksonville, Florida, loses a 950-pound training bomb over Waldo, Florida, in the afternoon. The ordnance narrowly misses home with four inside, bounces off tree, skips over a second home, and impacts in a field where the spotting charge explodes. No one is injured in the incident. Navy spokesman Bert Byers states that the pilot lost track of the bomb after it fell off the jet.[178]
1990 23 January
Mid-air collision between two Blue Angels McDonnell-Douglas F/A-18 aircraft during a practice session at El Centro. One airplane, Angel Number 2, 161524, piloted by Capt. Chase Moseley (ejected) was destroyed and the other, Angel Number 1, badly damaged but managed to land safely. Both pilots survived unharmed.[3]
1990 6 November
Crew of an US Navy Grumman A-6E Intruder, '506', of VA-176, suffering engine fire, aim bomber away from Virginia Beach, Virginia oceanfront before ejecting just after take-off from NAS Oceana, Virginia's Runway 5. Bomber comes down at 2215 hrs. in the Atlantic Ocean ~.75 miles offshore, after just clearing the Station One Hotel, on-shore breeze carries crew inland about three blocks from the beach, one landing in a tree, the other in a courtyard of a condominium, suffering only cuts and bruises. Aircraft, on routine training mission, was unarmed. Officials did not identify the crew, but said the pilot was a 29-year old lieutenant, and the bombardier-navigator was a 34-year old lieutenant commander, both assigned to VA-176.[21][22]
1991 5 June
A Royal Australian Air Force McDonnell-Douglas F/A-18A Hornet, A21-041, of 75 Squadron, crashes 100 kilometres NE of Weipa, Queensland. The pilot was killed. The wreckage was found in July 1994.
1992 2 November
A United States Navy Grumman EA-6B Prowler crashes in field near NAS El Centro, California. The three crewmen ejected at a very low altitude while inverted, and all were killed. Crew included Lt. Charles Robert Gurley (USN), Lt. Peter Limoge (USMC), and Ltjg. Dave Roberts (USN).
1993 None
1994 None
1995 None
1996 9 March
A Marine Corps McDonnell-Douglas F-18 Hornet went down off Charleston, South Carolina, with two pilots aboard. The search for the Marine pilots was called off 10 March.
1997 23 September
Static test Boeing F/A-18E Super Hornet airframe, ST56, being barricade tested at NAES Lakehurst, New Jersey by being powered down a 1.5-mile (2.4 km) track by a Pratt & Whitney J57-powered jet car, flips over and crashes into nearby woods when the steel cable linking the barrier with underground hydraulic engines fails
1998 3 February
Main article: Cavalese cable car disaster (1998)
A U.S. Marine Corps Grumman EA-6B Prowler, BuNo 163045, coded 'CY-02', callsign Easy 01, of VMAQ-2, struck a cable supporting a gondola in Cavalese. The cable was severed and 20 people in the cabin plunged over 80 metres to their deaths. The aircraft had wing and tail damage but was able to return to the base
1998 8 April
A Swiss Air Force McDonnell-Douglas F/A-18 Hornet crashes near Crans-Montana, Switzerland.
1999 None
2000 None
2001 29 May
A US Navy McDonnell-Douglas FA-18C Hornet from VFA-106 crashed near Fort Pierce, Florida, during a ferry flight from NAS Oceana, Virginia, to NAS Key West, Florida. Pilot was killed.
2002 17 February
A USMC McDonnell-Douglas F/A-18D Hornet from VMFA-533 crash lands at Twentynine Palms, California. Both aircrew eject but the WSO, while hospitalized, dies from his injuries.
2002 18 October
Two Boeing F/A-18F Super Hornets collide during air combat manoeuvring off the Southern California coast and crash into Pacific 80 mi SW of Monterey, California. All four crew (two Pilots and two WSOs) are killed while flying (KWF).
2002 3 November
An McDonnell-Douglas FA-18C Hornet from VFA-34 failed to return to USS George Washington from a night at sea bombing mission and crashed into Adriatic Sea. Pilot was killed.
2003 17 January
A US Marine Corps McDonnell-Douglas F/A-18D Hornet crashes into the Pacific Ocean off of MCAS Miramar, California, due to a material failure during a functional check flight with one engine shut down. Both crew eject safely and are recovered.
2003 11 September
While landing aboard USS George Washington, operating off the Virginia Capes, an McDonnell-Douglas F/A-18D-32-MC Hornet (Lot 13), BuNo 164198, c/n 961/DO63,[46] 'AD 432', of VFA-106,[47] goes off the angle at ~1600 hrs. when the arresting cable parts, pilot ejects and is recovered. The broken cable, whipping back across the deck, injures eleven deck crew, the most serious of which are airlifted to shore medical facilities.[48] Footage: http://www.youtube.com/watch?v=7OxMox2Kdxs&feature=related
Captain Chris Stricklin ejects from his F-16 at an air show in September 2003.
2003 24 March US Navy McDonnell-Douglas F/A-18C Hornet, of VFA-82, crashes into the Atlantic Ocean near Tybee Island, Georgia. Pilot ejects safely and is rescued.
2003 21 July
Two US Marine Corps McDonnell-Douglas F/A-18 Hornets of VMFA-134, 3rd Marine Air Wing, based at MCAS Miramar, California, suffer mid-air collision over the Columbia River, 120 miles (190 km) E of Portland, Oregon, shortly after 1430 hrs., killing Marine Reservists Maj. Gary R. Fullerton, 36, of Spartanburg, South Carolina, and Capt. Jeffrey L. Ross, 36, of Old Hickory, Tennessee in F/A-18B, BuNo 162870, 'MF-00',[56] coming down in the river. Maj. Craig Barden, 38, ejects from F/A-18A, BuNo 163097, 'MF-04',[56] landing nearby on a hillside W of Arlington, Oregon, and is taken to Mid-Columbia Medical Center in The Dalles, suffering minor injuries.[57] All three crew eject but only two parachutes open. The fighters were on their way to the Boardman Air Force Range, where the Oregon Air National Guard trains, when they collided, said one spokesman. Another spokesman told the Associated Press that the aircraft were on a low-altitude training exercise.[
2003 14 September
A US Navy McDonnell-Douglas F/A-18C Hornet of VMFA-212 crashes at Manbulloo Station about 10 M SW of RAAF Tindal, Australia, during a day approach to landing. The pilot ejects and is injured.
2003 9 November
A U.S. Navy McDonnell-Douglas F/A-18C Hornet crashes 15 miles E of Nellis AFB, Nevada, after in flight fire and becoming uncontrollable shortly after takeoff. Pilot ejects safely.
2003 2 December
The pilot of a Blue Angels McDonnell-Douglas F/A-18 Hornet, BuNo 161956, ejects approximately one mile off Perdido Key, Florida, after reporting mechanical problems and loss of power. Lt. Ted Steelman suffered minor injuries and fully recovered.
2004 None
2005 29 January
A Boeing F/A-18 Super Hornet crashes into ocean while landing on USS Kitty Hawk (CV 63). The No. 3 arresting wire snapped, resulting in the aircraft plunging into the Pacific Ocean 100 miles SE of Yokosuka, Japan, hitting an SH-60F and an EA-6B Prowler en route to the water. Crew LTJG Jon Vanbragt, LCDR Markus Gudmundsson ejected safely.
2005 18 July
A Boeing F/A-18E Super Hornet and a Boeing F/A-18F Super Hornet from NAS Lemoore, California, collide over the China Lake, California, weapons testing ground. The pilot of the E is KWF, while the two crew of F eject with injuries.
2006 None
2007 21 April
Main article: 2007 Blue Angels South Carolina crash
A United States Navy Blue Angels McDonnell-Douglas F/A-18 Hornet, BuNo 162437, crashes into a residential neighborhood while performing at an airshow in Beaufort, South Carolina, in the United States, killing the pilot. Military investigators blame pilot for his fatal crash. A report obtained by The Associated Press said that Lieutenant Commander Kevin Davis got disoriented and crashed after not properly tensing his abdominal muscles to counter the gravitational forces of a high-speed turn. During the crash, a residential home caught on fire.
2008 6 January
A Boeing F/A-18E Super Hornet has a mid air collision with a Boeing F/A-18F Super Hornet over the North Persian Gulf during routine ops from the USS Harry S Truman. One pilot ejects and is recovered.
2008 13 June
Two United States Navy jets collided over the NAS Fallon, Nevada high desert training range, killing a pilot of the McDonnell-Douglas F/A-18C Hornet, based at NAS Oceana, Virginia. Two crew aboard the F-5 Tiger ejected safely and were rescued.
2008 8 December
Main article: 2008 San Diego F-18 crash
A USMC McDonnell-Douglas F/A-18D Hornet, BuNo 164017, crashed into a neighborhood, University City, coming down two miles (3 km) west of MCAS Miramar, California, just after the Marine pilot, Lieutenant Dan Neubauer, from VMFAT-101,[141] ejected. Four fatalities on the ground. The Hornet was being flown from the USS Abraham Lincoln.[142] The commander of the fighter squadron involved in the crash, its top maintenance officer and two others have been relieved of duty as a result of the crash investigation. Three homes were destroyed and two more were damaged during the crash. In the aftermath of the crash, University City residents renewed previous calls for the US military to relocate aircraft from the base to a more remote location. Several citizens were killed in the crash. Three generations of a Korean family died in one home. The family's pastor, the Rev. Kevin Lee of the Korean United Methodist Church in San Diego, identified three of them as Young Mi Yoon, 36; her 2-month-old daughter, Rachel; and her mother, Suk Im Kim, who was visiting from South Korea to help care for her daughter's newborn. The body of 15-month-old Grace Yoon, Rachel's sister, was found in the home Tuesday, Fire Department spokesman Maurice Luque said. In July 2010, Yoon sued Boeing and the United States government for an unspecified amount. In the suit, Yoon alleges that the government violated many of its procedures in its operation of the mishap aircraft and that Boeing was responsible for the defects in the aircraft's fuel systems which caused the crash. On 28 December 2011, U.S. District Judge Jeffrey Miller awarded Yoon, his father-in-law, and mother-in-law's three adult children a total of $17.8 million in damage compensation from the U.S. government. The Wu family lived in a temporary home for two years until their home was rebuilt. Their homeowner's insurance did not cover all the cost of the reconstruction, temporary lodging expense, or replacement of all their lost possessions. More surprising, according to the Wu family, is that they have yet to receive any compensation from the US Navy. The family has filed a lawsuit against the US government for compensation for their damages. Said Sunny Zhuang-Wu, "I didn't know the military would be so difficult." Four other lawsuits against the US Navy for crash damage are pending
https://en.wikipedia.org/wiki/2008_San_Diego_F/A-18_crash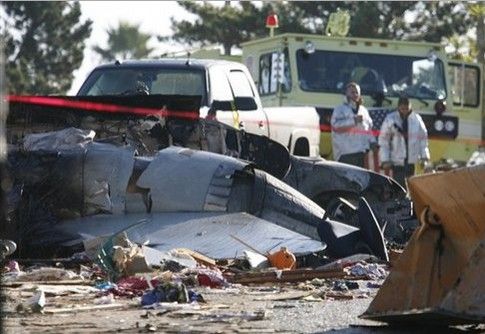 Marine Corps firefighters look over the wreckage of an F/A-18D jet Tuesday, Dec. 9, 2008 that crashed into a San Diego neighborhood, killing three people. The F/A-18D Hornet crashed into the street Monday about two miles from Marine Corps Air Station Miramar as the pilot was returning from a training flight. The pilot ejected before the crash but four citizens died when the F18 jet hit a series of homes. (AP Photo/Denis Poroy)
2009 2 April
A Spanish Air Force F/A-18 Hornet crashes in northern Spain. Pilot ejects safely.[167]
2009 16 June
Two Spanish Air Force McDonnell-Douglas F/A-18 Hornets collide in midair near the Canary Islands, Spain. Both pilots eject safely.[191]
2010 24 January
A Finnish Air Force (FinAF) McDonnell-Douglas F-18 Hornet crashed in the south of the country. The fighter crashed in Juuapajoki, north of the southern city of Tampere at about 11:50 local time. The two pilots, who were on a routine training flight, ejected safely and were uninjured.[9]
2010 10 March
A United States Marine Corps (USMC) McDonnell-Douglas F/A-18D Hornet, BuNo 164694, 'WK-01', from VMFA (AW)-224 crashed into the Atlantic Ocean, app. 35 miles (56 km) east of St. Helena Sound, South Carolina, after a double engine failure and a fire. Both pilots ejected and were floating in an inflatable life raft for about one hour before they were rescued by a USCG helicopter.[30]
2010 23 July
A Royal Canadian Air Force (RCAF) McDonnell-Douglas CF-18 Hornet, 188738, of 419 Moose Squadron, based at Cold Lake, crashed at Lethbridge County Airport during a low-speed, low-altitude practice run for the Alberta International Airshow. The pilot, Capt. Brian Bews, 36, ejected in a Martin-Baker seat seconds before the fighter fell off on its starboard wing and impacted on the airfield. He suffered a compression fracture in three vertebrae but is expected to fully recover
2011 30 March
Ten sailors are injured when an engine of a USMC McDonnell-Douglas F/A-18C Hornet of VMFAT-101 based at MCAS Miramar, California,[80] suffers a catastrophic failure while preparing for launch at 1450 hrs. during routine training exercises from the USS John C. Stennis, ~100 miles off the California coast. USN Cmdr. Pauline Storum said that five of the injured are taken by helicopter to the shore, four to the Naval Medical Center, San Diego, and one to Scripps Research Institute at La Jolla, California. None of the injuries were considered life-threatening but the fighter sustained damages over $1 million. The ensuing fire was quickly extinguished and the carrier itself was not damaged.[81]
2012 24 February
A USN Boeing F/A-18F Super Hornet on a training flight crashed into a dry lake bed 30 miles from Naval Air Station Fallon. The crew was recovered by helicopter.
2012 6 April
A McDonnell Douglas F/A-18 Hornet of the USN crashed on take-off from Naval Air Station Oceana, Virginia Beach, Virginia. Both crew ejected. The aircraft crashed into a block of apartment complexes. Seven people were injured including two pilots.
2012 1 September
A USMC McDonnell Douglas F/A-18C Hornet crashed in a remote range area of the Fallon Range Training Complex, The pilot ejected from the aircraft safely.[119]
2013 11 March
A USMC Grumman EA-6B Prowler crashed during a scheduled low-level flight. 3 fatalities.[125]
2013 23 October
A Swiss Air Force (SwAF) McDonnell Douglas F/A-18 Hornet crashed into a mountain side near Alpnachstad. Both pilots died in the crash.[134]
2014 15 January
A USN Boeing F/A-18E Super Hornet of VFA-143 crashed off Virginia, pilot was rescued.
2014 4 June
An F/A-18E Super Hornet of VFA-81 Sun Liners crashed while trying to land on the USS. Carl Vinson off the coast of Southern California .Pilot ejected safely.
2014 September 12
Two F/A-18 Hornets crashed while flying off the aircraft carrier USS Carl Vinson in the western Pacific.